Recognized for achievements using online marketing tools to drive success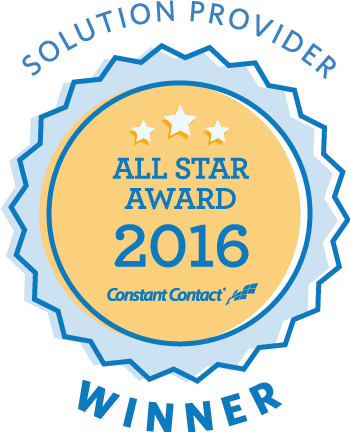 WebWorld Advantage, a provider of website design, email marketing and social media marketing services, has been named a 2016 Solution Provider All Star Award winner by Constant Contact, part of the Endurance International Group, Inc.'s (Nasdaq: EIGI) family of brands and the trusted marketing advisor to hundreds of thousands of small organizations worldwide. The annual award recognizes the most successful 10 percent of Constant Contact's Solution Provider base, based on their significant achievements using email marketing to engage client's customer base and drive results for their organizations during the prior year.
"We are thrilled to be named a 2016 Constant Contact Solution Provider All Star.  Our customers come first and we have had an amazing year helping grow businesses across Michigan and beyond. We are proud of the work we do and look forward to pushing the bar even higher in 2017" said Candy Jones-Guerin, Owner of WebWorld Advantage.
Constant Contact Solution Providers are businesses that provide services tailored to the needs of small businesses or nonprofits—everything from web developers, to online marketing consultants, to advertising agencies and more. They use Constant Contact's online marketing tools to generate more business for their clients. Criteria used to select this year's All Stars included the following during 2016:
Level of engagement with email campaigns
Open, bounce, and click-through rates
Use of social sharing features
Use of mailing list sign-up tools
Use of reporting tools
"Email marketing continues to deliver the highest returns of any marketing channel. Our Solution Providers are a core extension of our business, helping those small businesses and nonprofits that need guidance and assistance with their marketing," said Jamie Waldinger, Senior Director Corporate Development & Strategy, Constant Contact. "We're thrilled to recognize WebWorld Advantage for their commendable achievements in helping their small business customers become better marketers."